IT Infrastructure Supply, Support & Maintenance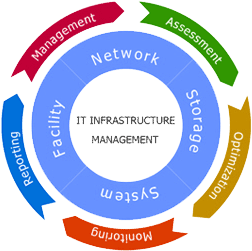 IT Facilities Management Services cater to service demands on your IT facilities. We take the complete responsibility of ensuring availability and performance of your IT infrastructure as per SLA (Service Level Agreements )
Managed Services – Monitoring, Management, Operations, Service Desk
Our service scope includes IT Helpdesk, Data Center Operations and End-user Support.
Performance improvement/tuning & Capacity planning
At é-Ware take over your overall management of varied IT assets. We capture all the service requests logged via mail, telephone or the Web. These include boosting of the performance by proactively monitoring, forecasting and realigning IT resources. We undertake network, server, security and database administration; data backup; and application support. We also support your end-users with services such as desktop / laptop operations, LAN management, peripherals support, mail management, antivirus system management, and installation and configuration of client desktop applications.